Online Customer Support - 24/7
How to Look More Attractive to Ukrainian Women
5 Brilliant Ideas How to Look Gorgeous in Beautiful Ukrainian Women's Eyes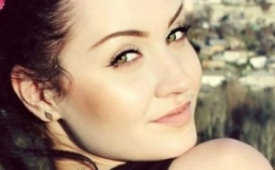 Thousands of American and European men look for hot Ukrainian women on special dating sites hoping to find a real love or just have a good time and entertain. However, it is important to know certain nuances how to make a good impression on beautiful Ukrainian women. There are popular Internet Casanovas who have eagerly shared their experience and secrets with us. Now you are lucky to know them and use.
Be attractive. Even if you have got a beer belly and don't look like Johnny Depp, you can improve the situation with the help of a good photographer. He will explain you how to look at the camera, smile or not, sit or stay, hold something in your hands or not and other important things that may spoil the photo or make it a real masterpiece depending on the photographer's talent. When you get your photos, add them to your profile on the dating site.
Be creative. When you have made up a decision to write to a girl first, don't hurry up. She might probably get hundreds of letters-clones everyday with words like: "Hi, pretty lady. Howdo? I'm paralyzed by your beauty. Waiting for your reply to recover." Don't use clichés. Send her a letter written by you only. Describe how beautiful and smart she is. She will be pleased to read a funny message from you. But forget about copy and paste. Your own thoughts only.
Be active. Don't make her wait for your answer too long. Show how much interested in her you are. Hot Ukrainian women like attention and noble deals. Send her verses of famous poets, but avoid poems that are known by everybody and cause irritation.
Be honest. Yes, you are simple man from a little town and you have never starred in movies, have never played for Lakers and haven't ever met president Obama. The more you lie, the sooner she will understand it. This is of great importance as you may lose a fantastic woman because of your vanity fantasies and the desire to make a great impression of a lady. You will impress her even more if tell something that has really happened and you have showed courage, wittiness or certain skills in that situation.
Be generous. Beautiful Ukrainian women don't like greedy men most of all. It is really terrible, when a girl wants to buy a new dress to look superb to her boyfriend, but he doesn't want to give her money because he thinks that this is a bad thing to spend money on attire, especially when you have already got one. Even if you don't like to spend money on petty things and like to spare it in order to buy something worthy like a car or some furniture, you can honestly tell her about it. The main thing is to keep in the golden middle. However, it doesn't mean that you should send her money to prove your generosity. Don't do it anyway. You can send her something beautiful as our site supplies with this option.
Now you know main tricks how to look more attractive to Ukrainian brides. It is important not to be timid and think that you choose but you are not chosen. Eastern European women dream of marrying a foreigner. Therefore, you can count on the victory and be sure of it.
Profiles of Beautiful Ukrainian Girls
Look through ladies' profiles to find the best ones to your taste. Then start to communicate with the Ukrainian beauties. You have all chances to win and you'll do it! Good luck!
My heart is free for love and passion!

1Passionate_diamond_

34 y/o female Lvov, Ukraine

Hi.This is new to me to look for a man on a foreign site. But I want to try. About me: I like theatre,to walk in the park, swim, do fitness.I song too. I adore all potato dishes... more about Irena from Lvov

$arg0 credit(s) to open a letter from her
The sugar is always at the bottom!!! (saying)

Flaming_woman83

37 y/o female Ternopol, Ukraine

My name is Aleksandra and I guess I am all you are looking for! You will discover it as soon as you will know me better.Smile) I think it is natural for everybody to tend to love a... more about Alexandra (Sasha) from Ternopol

$arg0 credit(s) to open a letter from her
about me

Wi_Osna

37 y/o female Odesa, Ukraine

I love extreme and live my life brightly! We have only one life and we should live it for 100%! I like traveling and enjoying my life! Sometimes I can be capricious and unpredictab... more about Anna from Odesa

$arg0 credit(s) to open a letter from her
It's the little wonders that make life so amazing

UkrainianBlonde

36 y/o female Kiev, Ukraine

I am a sweet Ukrainian girl with an outgoing personality. Very happy and good natured I have a strong side as well. I'm also jovial, open-hearted, friendly, energetic and very act... more about Mariana from Kiev

$arg0 credit(s) to open a letter from her
Be ready for the bigest love in your life....

_NightTouch

24 y/o female Kiev, Ukraine

My dear special man, I know you are now reading these lines and I know the way you feel at the moment...I know you are a very good but very lonely man and I assure you - I am feeli... more about Maria from Kiev

$arg0 credit(s) to open a letter from her
More good looking Ukrainian women.